PSA is proud to welcome international speaker and best-selling author Jill Konrath to our Fall Sales Seminar on September 15, 2017. Her most recent book, More Sales Less Time was selected as one of 2016's top sales books. Jill also wrote SNAP Selling, Agile Selling and Selling to Big Companies.
In Jill's keynote, you'll discover how to:
Add 1-2 hours to your work day
Get focused on work that yields maximum results
Optimize your sales performance
Five Star Customer Review of More Sales Less Time on Amazon by Nancy B:
This is my favorite Jill Konrath book. The ideas and suggestions are sound and I've already had great success using the Pomodoro Principle – 25 minutes of focus on one item.
I've long been a proponent of the research showing that multi-tasking is NOT possible…and attempts are unproductive. Jill takes that so much further. I've given copies as gifts to weary sales professionals because the strategies may be the most helpful "education" they receive.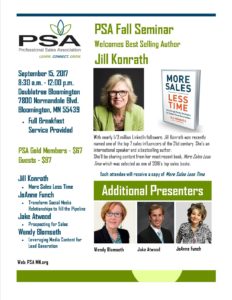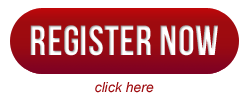 When: Friday, September 15, 2017
8:15 am – Breakfast and Networking
8:45 am – Presentations Begin
12:00 – 12:15 pm – Networking
Location:
DoubleTree Bloomington Hotel (494/100)
7800 Normandale Blvd
Minneapolis, MN 55439
Investment: (hot breakfast included)
$67 per PSA Gold Member
Silver Members and Guests are welcome at $97 per person
Registration Deadline: NOON Wednesday, September 13, 2017
Click on a sponsor's logo to visit their site: